Sunday to Sunday
Like the reference to Father McKenzie in the Beatle's song, this priest is "writing a sermon no one will hear." These lyrics are a constant reminder that even with the best of intentions, a homily or sermon may have little effect on a congregation.
Preaching presents substantial challenges. However, the opportunity to identify with your fellow parishioners, reflect collective hopes, and assess the real needs of those whose lives you touch may be the very first requirement for good preaching. This is an all-important aspect of pastoral leadership. Without effective preaching, leadership may be weakened or undermined.      
Preaching is also a performative skill in a variety of environments, whether in large cathedrals or the intimate setting of a home or hospital room. A preacher must have the capacity to adjust to groups that vary in age and cultural backgrounds.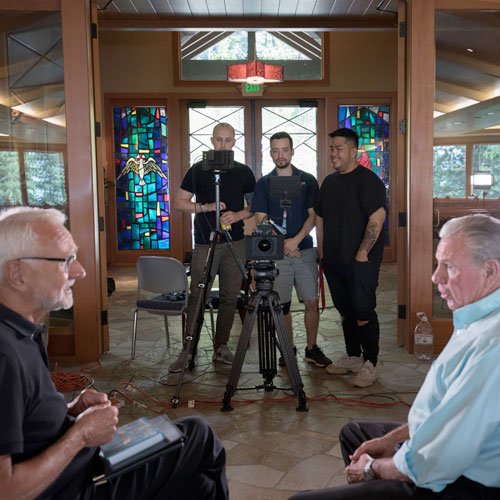 Theater critic John Lahr wrote of his father, Bert Lahr, that the actor had the talent to make an audience laugh at a pause, or even at conjunction. Bert Lahr's timing and body language could "read an audience" for tremendous comic effect. The actor once remarked to his son: "I listened to the audience, and they told me where the joke was." 
A preacher's attentiveness to the congregation and interpersonal skills acknowledges that he or she is genuinely communicating with a living organism that begins with individuals connected to the broader faith community.
Meet the Team
Mike Russo's idea for a television program about the preaching ministry draws on his 50 years of experience as a college teacher and in his consulting to broadcast/cable news organizations.
His former students both at Saint Mary's College of California and Seton Hall University are among the over 25 volunteers who have contributed to the success of this Emmy Award-winning production.
Among the first collaborators and donors of the project were his parishioners, who had witnessed a thriving parish community and wanted to pass on this experience of great preachers. They placed trust in the idea and recommended creating a 501 (c) 3 non-profit and formally registered trademark with the title "Sunday to Sunday." Mike Russo, Mark Stephens, and Tim Farley comprise the formal board of the non-profit.
Along with media partners, America|Media (New York City), and the DeSales Media Group (Brooklyn, NY), the production concept for Sunday to Sunday was underway in 2017.
From the ranks of Saint Mary's College alumni, Matt Soares brings his skills of business management and Eric Clarke offers his legal advice. Along the way, Joan Maxwell remains our go-to person on marketing, and John O'Keefe provides his know-how into fundraising and program development.
These team-members represent only some of the names that are in the final credits of each episode of Sunday to Sunday.